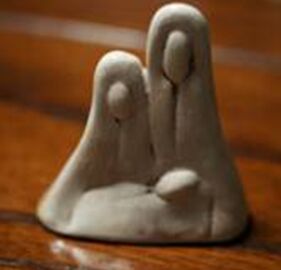 This form of creativity came about because of a need that could only be met if I myself made it happen. Back in 1999 or 2000, I wanted to have an angel tree for Christmas, and when I went shopping for angels, I could not find the type of angels that I wanted. I went to several stores and became frustrated when I could not find what I was looking for. I decided that I would make my own angels, and off I went in search of angel parts, only to find that there were no suitable angel makings either! Well, I had my mind set on an angel tree and I was not about to be defeated. After some research on the internet on how to make angels and dolls, I went to the craft store and bought a ton of supplies and went to work. My first angels were made with heads of wooden and foam balls covered with paper or painted, and clothespins, wire and paper for bodies. I painted cute little faces on the wooden balls, with open mouths singing praises to the Lord. Some of these angels were dressed in the finest of fabrics, which I purchased from High Fashion Fabrics in Houston, Texas.
Making the angels was an inspiration to me, and I wanted to go further in having the angels portray the praise and worship of the Lord. I began experimenting with modeling clay, and after creating some very funny looking creatures, I eventually learned how to handle the clay and started on a sculpting journey that I still enjoy today. I have not produced such a high volume of sculptures since that time. It was as if I was on a mission, and it was a spiritual mission. Each and every angel that I produced during that time was created with much care, much tenderness, much love. The angels had personalities, each one unique, and full of spirit, full of praise pouring out of their wide-open mouths. I sold several of these angels, each a one-of-a-kind creation, sculpted with my hands, signed and dated on the bust. I signed everything as simply "Rosalin" and the current year. The people who bought one of these angels also got a part of me as well, my spirit went with each of those angels. I in no way think of myself in the same league with God, but I believe I see in some way how God's spirit exists in each of us. I did not have the breath of life to give the angels, but I sent my spirit along with each of them. If that makes sense!

Once I started working with the modeling clay, I tried making other things such as Moon Santa, which I really like but had never seen any Black ones. So, I made myself some Black Moon Santas. After that came snowmen, elephants, paperweights and various tree ornaments. The modeling clay opened up a whole new world of expressive possibilities, especially when I learned how to make molds. I no longer sell originals, so those people who got them when I first started are few and privileged indeed.