Leave People and Their Chitterlings Alone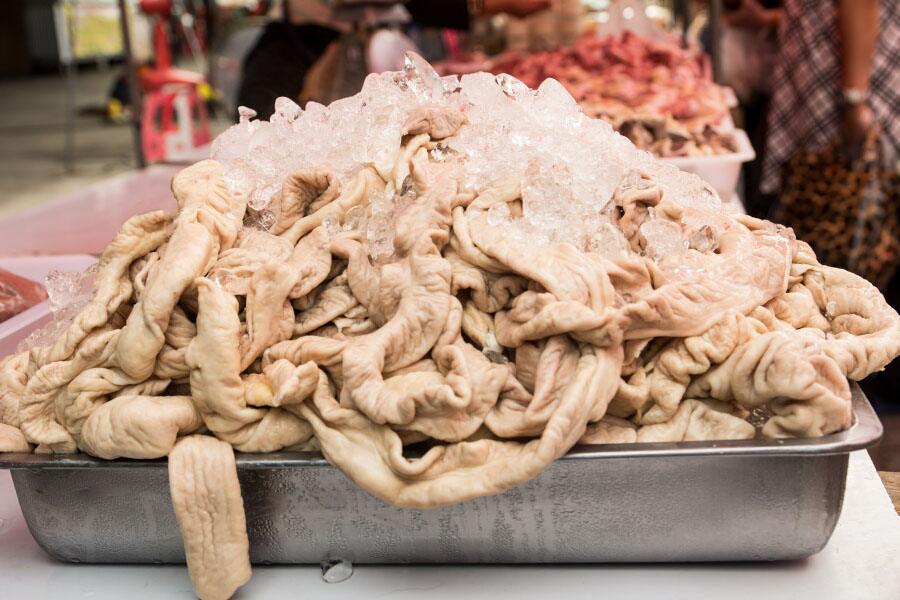 Every year during the holiday season, many foods are prepared that people have been waiting all year to savor. Among rarely served items like fruitcake, turkey and dressing, sweet potato pie, and coconut cake, there are the ever controversial chitterlings. I say controversial because although some see hog innards as a once-a-year treat, many others find the idea of eating such food to be repulsive. My stance on the subject of chitterlings is to let people enjoy what they enjoy.
Considering how short life is and how many bad things can befall us at any given moment, I refuse to tell anyone that they cannot have chitterlings for the holidays. Those who don't eat chitterlings, pork or meat will be quick to point out all of the health reasons not to eat that type of food. Some consider chitterlings to be slave food and they think the last thing a Black person should want to eat is slave food. Others simply think eating intestines is just disgusting. In my opinion, eating chitterlings would be no worse than eating caviar, oysters, escargot, or sucking crawfish heads. It is all a matter of opinion, which is why we should not try to force ours on others. And if you want to go biblical on us, just remember that shrimp, crab and lobster are also on that list of "not good for you" foods.
Now, I don't cook chitterlings and haven't eaten any in many years. I believe the last time I had them was at the "This Is It" restaurant in Houston. However, I have no problem eating a forkful or two if they are presented to me and I trust the cook. The worse thing that could happen is to be served unclean chitterlings! For those who want to cook chitterlings but have never done so before, please check out this video --
Cooking with Elaine: Chitterlings and Hamhocks with Rice.
Although many think of Black people when it comes to chitterlings, other cultures also eat chitterlings, including cow and sheep intestines. And although we might not directly eat certain animal parts, it is my guess that we are consuming these parts in many other ways by way of processed foods.
It seems to me that too many people these days enjoy judging and condemning what other people eat. Now, I am all for being healthy and having good eating habits, but we are talking about holiday celebrations and specialty foods. Most people cook things like chitterlings only once or twice a year. Perhaps some even cook these types of food in remembrance and honor of the slave ancestors. I know some say why eat that slave food now when you don't have to, but you must think much deeper than the food itself to understand why they do it. If you do not want to eat chitterlings, and even if you do not think other people should eat chitterlings, that is perfectly okay. But please just be quiet and let those who do eat chitterlings enjoy themselves. Most chitterling eaters probably do not care what you think about it anyway, so . . .
HAPPY HOLIDAYS!
And to each his own!
Romans 14:3 Let not him that eateth despise him that eateth not; and let not him which eateth not judge him that eateth: for God hath received him.
Recommended Reading
https://www.southernliving.com/dish/what-are-chitlins
https://ediblenortheastflorida.ediblecommunities.com/food-thought/chitterlings-soul-food-chitlins

--Rosalin Grace
November 29, 2020