Thank God for Sweet Potatoes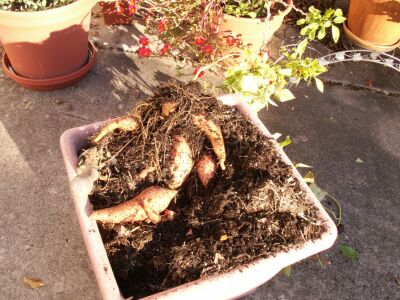 Most of the time we are oblivious to the goodness of God and how much He loves us. We spend a lot of time focusing on what is wrong in our lives, struggling to reach some imagined target of success. But sometimes, somewhere down the line, we realize how gloriously we are blessed. No matter what is going on (or not going on) in our lives, we still have zillions of things to be grateful for. And when those realizations occur, we experience joy.
A few weeks ago, I had been a tad perturbed over having learned that morning that not only did I need the brakes replaced on my car, I also needed a new water pump. This unexpected expense was not welcome.
When I arrived home from the dealership, I spent the rest of the afternoon outside working in the garden to unwind and relax. I then decided that this was as good a day as any to get that sweet potato plant out of the way. I had planted the thing back in the spring and the only signs I had seen of a sweet potato was a couple of skinny orange things near the surface of the soil. The plant was in a container on wheels and had sat along the edge of the driveway for the entire summer where it got full Texas sun and frequent watering, although sometimes I was sure I was just wasting water.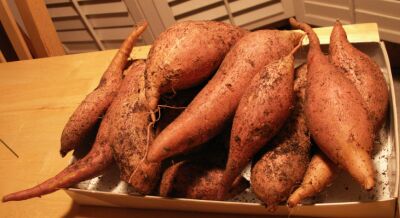 I rolled the container across the driveway and grabbed the base of the plant and pulled. To my surprise, there was resistance. Only a few leaves and a broken piece of sweet potato came out of the pot. I was also surprised by the size of the broken sweet potato, which was about the size of my thumb. I started to dig out the soil with my hand and discovered a small sweet potato about the size of a small lemon. Not bad for a first try I thought. There was still a lot of resistance and the bulk of the plant was still inside the container. I used a trowel to dig deeper and reached a large, hard mass. I yanked on the plant's base again and up came a clump of sweet potatoes and soil. I was overjoyed. All I could do was shout "Lord, I have sweet potatoes!". I was totally in awe that a single rooting from a sprouting potato had actually produced sweet potatoes. And the sizes varied from large to small. When I dumped out the rest of the soil from the container, I joyously discovered four more large potatoes near the bottom.
I realized later what a wonderful gift those sweet potatoes had been to me. Not only were they going to nourish my body and please my taste buds with their nutrients and flavor, they had already fed my spirit and lifted up my heart. Any anxiety I had earlier over unexpected expenses was gone. What could be sweeter than discovering one has a hidden treasure? And then to realize who is the bearer of that treasure? I thank God for sweet potatoes because I believe God knew how much joy they would bring to me that day.
I was reminded that you cannot rely on what is seen. Sometimes the most important things are unseen. I had judged the sweet potato plant by the surface roots when underneath something miraculous was taking place.
A sprouting sweet potato that normally would have been thrown in the garbage had turned out to be priceless. We should never take anything for granted. Each thing in its own right is a precious gift. The old adage "stop and smell the roses" means more than merely smelling roses. We must all stop and acknowledge how blessed we are and how God really has provided all that we need. No matter how bad we think things might be, the warm sun still shines, the life-giving air still fills our lungs, the rain still falls, and sweet potatoes still grow.
--©Rosalin Moss
December 2006